What is the Difference Between a Honda Civic and Honda Accord?
As you consider what Honda car is best, the difference between the iconic Honda Civic and Honda Accord is fun to review! Both vehicles have a long history of and reputation of quality and awards. Both the Civic and Accord are very popular vehicles in Sioux Falls and the surrounding communities based on the reliability, cost to own, safety features and much more. We're excited to explain the differences between these two outstanding Honda cars.
One area that impresses many drivers in Sioux Falls centers around the available technology, mainly Honda Sensing. We won't dive into the amazing suite of technology features included with Honda Sensing since both cars have available models that have this option. What we will review is the body types, trim levels, passenger space and dive into a few awards each vehicle has won. Each of these Honda models features a variety of standard conveniences, including a rearview camera, a 160-watt 4-speaker sound system with an auxiliary audio input jack, and variable assisted steering.
The Honda Civic

Up first for a more in depth look, let's check out the Honda Civic. The first generation Civic was first introduced back in 1972 and has seen many changes over the years. The all-new Civic in it's 6th generation (starting with the 2016 model year) and some cool advancements are now available. Starting with the 2016 model year, the Civic completely revamped it's exterior styling. Offered in coupe, sedan and four-door hatchback body styles, the Civic is also available in high-performance Si and Type R form. The versatility of this compact car has created a broad audience due to the great MPG, numerous trim levels and stylish & sporty looks. Compared to the Accord, the Civic is slightly smaller and has less amenities. It's also a few thousand dollars cheaper depending on the trim levels you compare. If the Civic strikes all your cylinders, your local Sioux Falls Honda dealer, Vern Eide Honda, has plenty of Civics for sale!
The Honda Accord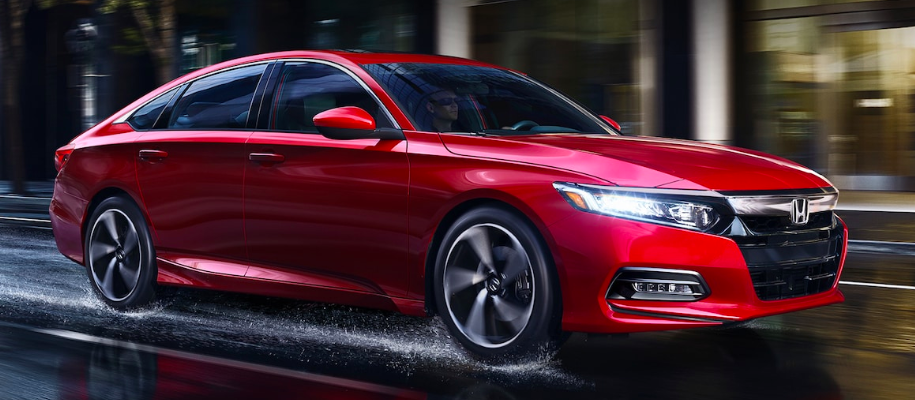 Up next, the very popular Honda Accord. The all-new Accord exterior saw significant exterior updates just a few years back in 2018. The stylish 2020 Honda Accord looks different from the original first-generation Honda Accord launched on 7 May 1976, as a three-door hatchback. This generation Accord offers up to 6 trim levels, of which a hatchback is not included. It does offer a Hybrid model which the Civic doesn't. The Accord does boast more horsepower when comparing the LX base models. The list of overall standard features is a scotch longer when compared to the Civic as well. Looking for an all-new Honda Accord to buy? Vern Eide Honda has you covered with this amazing Honda car as well!
Below we review U.S. News Best Cars scoring data to compare these Hondas in categories that matter most to car shoppers. These scores are being updated and other sources provide different reviews depending on where and when they were released.
2020 Honda Civic Sedan LX with 6-Speed Manual Transmission
vs.
2020 Honda Accord Sedan LX with CVT transmission
| Accord | | Civic |
| --- | --- | --- |
| 192-hp 1.5L turbo 4-cylinder | Base Engine | 158-hp 2.0L 4-cylinder |
| 105.6 cubic feet | Passenger Volume | 97.8 cubic feet |
| 16.7 cubic feet | Cargo Space | 15.1 cubic feet |
| 7-inch WVGA screen with customizable feature settings | Screen | 5-inch LCD |
| Standard on base model | Pandora® compatibility | N/A on base model |
Designed with performance and reliability in mind, the Honda Civic and Honda Accord both provide the ultimate driving experience. Each comes with its own engine configuration, transmission, fuel economy, and overall performance to meet your driving needs. Take a closer look at the performance specs for the Civic Sedan LX and Accord Sedan LX below:
Honda Civic vs. Honda Accord: Performance & MPG Ratings
Engine: The Honda Civic Sedan LX is equipped with a 2.0L 4-cylinder engine that delivers 158 hp and 138 lb-ft of torque, while the Honda Accord Sedan LX comes with a 1.5L turbo 4-cylinder engine that produces 192 hp and 192 lb-ft of torque.
MPG Ratings: With the entry-level LX trim, the 2020 Civic Sedan earns an EPA-estimated 25 mpg city/36 mpg highway** rating when paired with a 6-speed manual transmission, while the 2020 Accord Sedan LX earns an EPA-estimated 30 mpg city/38 mpg highway** rating with a CVT transmission.
Whether you choose an all-new Honda Civic or all-new Honda Accord as your next car, you'll be in good hands. Both are packed full of goodies and affordable to budgets of all shapes and sizes. To learn more about either of these impressive machines, the team at Vern Eide Honda is available online, via phone or in person! Swing on over to 5200 S Louise Ave, Sioux Falls, SD 57108 or give us a ring at (605) 362-9500 to book a test drive today!